A hotel in Gières for business by the Alps
2 matched hotels in Gières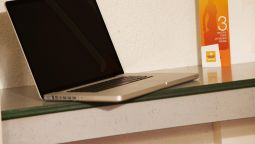 Choosing a hotel in Gières means you are choosing a charming, young town within a short distance of the capital of the region, Grenoble. The breathtaking backdrop of the Alps gives Gières an edge of outstanding beauty, whilst the town itself has all the key amenities for a successful business trip. Gières is a convenient and pleasant place to stay for visitors to the Isère department of France, particularly those who are doing business in or around Grenoble.
What is the character of the area?
Gières is just 9 km from the major scientific research centre of Grenoble, as well as being within a very short distance of areas of exceptional natural beauty. The area surrounding Gières is brimming with historical sites, from ruins of the ancient Gallic era to remnants of the French Revolution. The town itself has numerous restaurants offering the best in French cuisine, whilst there is also a train station which links it to the rest of the Auverge-Rhone-Alpes region - it takes just 10 minutes to travel via rail from Gières to Grenoble.
What does Gières offer business travellers?
Staying in Gières means putting yourself in an opportune position to make the most of the booming scientific research centre that is Grenoble. There are countless institutions and corporations based in and around Grenoble, including a leading French scientific university, the Université Joseph Fourier, and research centres such as the European Molecular Biology Laboratory. The economy of the area is based strongly on biotechnology and nanotechnology, as well as being a European leader in hydropower. Some significant corporations which have made Grenoble their base include Caterpillar, Hewlett Packard, Schneider, and Xerox.
What is there to explore, near to my hotel in Gières?
With a hotel in Gières you are perfectly placed to enjoy the Alpine region, including excellent ski resorts. Within 5 - 10 km you'll find numerous gardens such as the Jardin du Musée Herbert and the Parc du Chateau de Vizille. Within around the same distance are several natural attractions including Mont Jalla and the Ruines de Sechelienne. Grenoble has some fascinating historical sites, such as the ancient fortification of La Bastille. It is also home to the informative Museum of Grenoble, housing ancient artefacts, and art works spanning the period from the Medieval era to the modern day.