What a hotel in Leigh offers business guests
2 matched hotels in Leigh, Wigan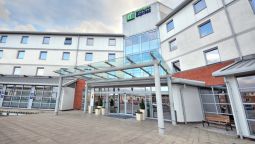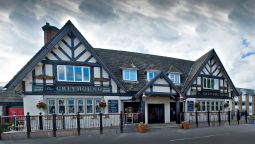 Leigh is a historical agricultural and cotton-producing town in the borough of Wigan. Situated within easy driving distance of both Manchester and Liverpool, Leigh is ideally situated for business trips in northeast England. The town centre is easily traversed on foot, and a retail park, also within easy walking distance, provides all the entertainment you could want. Manchester Airport lies some 25 miles away, and Leigh is well connected by road and rail to the rest of Greater Manchester and beyond. Opt for a hotel in Leigh for access to all that the region has to offer.
What is there to do in Leigh after work?
Go shopping at the Spinning Gates Centre or head to the northern side of the Bridgewater Canal to the Loom, a retail development that boasts a seven-screen cinema and various restaurants and cafés. You could also spend an afternoon at the Pennington Golf Club or enjoy some of Leigh's surrounding nature and rambling spaces.
What does Leigh offer the business traveller?
With its central location, Leigh serves as an ideal base to access the business attractions of Manchester and Liverpool. Manchester Central hosts annual trade fairs, with topics ranging from social services to travel, and the yearly Eurotrade Fair that takes place in Events City displays household, cosmetic, electrical goods, and more. Easily accessible for Leigh, Liverpool is another economic hotspot. With events ranging from photography shows to healthcare job fairs, there is something for everyone.
What attractions should I make time for on a business trip to a hotel in Leigh?
Leave the comforts of your hotel in Leigh and head to Wigan Pier. It's not actually a pier, but an area around the inland town's canal. Take a stroll around here to learn about industrial Wigan's history. The old cotton mill and warehouse can still be seen, although the Wigan Pier Nightspot is now closed. Visit the Warrington Museum and Art Gallery for some more local history, or head to the premier birdwatching site, Pennington Flash Country Park, where 200 hectares of green space surrounds a 70-hectare lake. In addition to the wide variety of birds and butterflies that can be spotted here, the park boasts a municipal golf course, fishing and picnicking areas, and sailing, rowing, and windsurfing.